---
IoT SaaS – Why Automotive Industry Should Care, and Which AWS IoT or Azure IoT is Better to Use as a Base Platform For Connected Vehicle Development
---

We're connected. There's no doubt about it. At work, at home, in town, on holidays. Our life is no longer divided into offline and online, digital and analog. Our life is somewhere in between, and it happens in both worlds at once. Also in our car, where we expect access to data, instant updates, entertainment, and understanding of our needs. The proven IoT SaaS platform makes this much easier.  Today choosing this option is crucial for every company in the automotive industry. Without it, the connected vehicle wouldn't exist.
What you will learn from this article:
Why an automotive company needs cloud services and how to build new business value on them
What features an IoT platform for the automotive industry should have
What cloud solutions are chosen by the largest producers
---
Before our very eyes, the car is becoming part of the Internet of Things ecosystem. We want safer driving and 'being led by the hand', ease of integration with external digital services like music streaming, automatic parking payments, or real-time traffic alerts, and the transfer of virtual experiences from one tool to another (including the car).
The vehicles we drive have become more service-oriented, which not only creates new options and business opportunities for companies from the automotive sector but also poses potential threats.
A hacking attack on a phone may result in money loss or compromising the user, whereas an attack on a car can have much more serious consequences. This is why choosing the platform for a connected vehicle is crucial.
Let's have a look at the basic assumptions that such a platform should meet. Let's get to know the main service providers and market use cases influencing the choice of the largest brands in the automotive industry.
5 must-haves for every IoT SaaS platform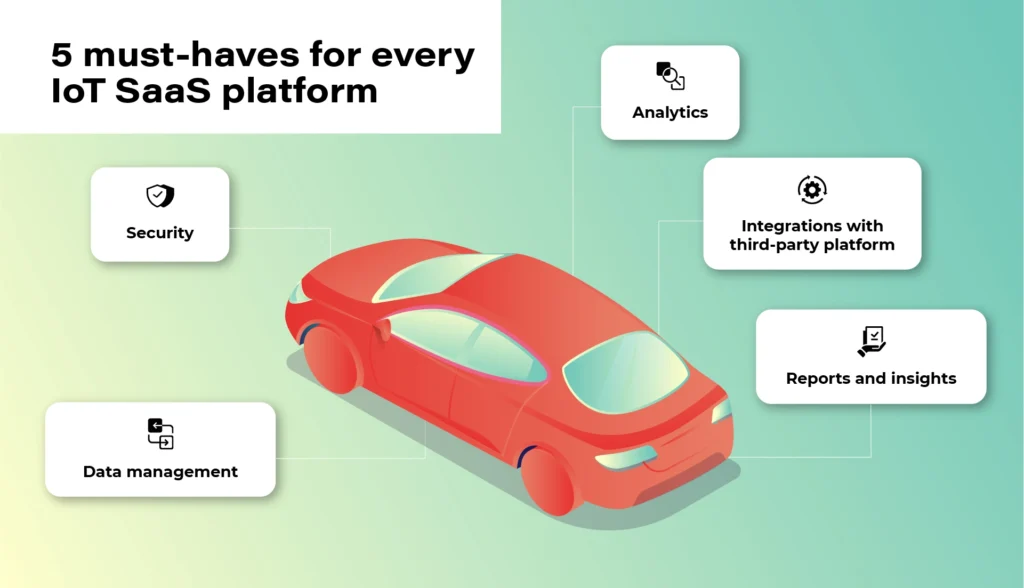 1. Security
At the heart of the Internet of Things is data. However, no one will share it unless the system guarantees an appropriate level of security and privacy. Access authorization is meant for selected users and platforms only. Authentication is geared to prevent unwanted third-party devices from connecting to the vehicle. Finally, there is also an option of blocking devices reaching their limits of usage or ones that have become unsafe. These types of elements that make up the security of the platform are a necessary condition to consider the implementation of the platform in your own vehicle fleet.
2. Data
The connected vehicle continuously receives and sends data. The vehicle communicates not only with other moving vehicles but also with the city and road infrastructure and third-party platforms. Data management, storage, and analysis are the gist of the entire IoT ecosystem. For everything to run smoothly and in line with security protocols, devices need to get data directly from your IoT platform, not from devices. Only in this way will you get a bigger picture of the whole, plus the option of comprehensive analysis- hence the possibility of monetization and obtaining additional business value.
3. Analytics
Once we have the guarantee that the data is safe and obtained from the right sources, we can start analyzing it. A good IoT platform allows it to be analyzed in real-time, but also in relation to past events. It also allows you to predict events before they happen – for example, it will warn the user about replacing a specific component before it breaks down. It is important that the platform collects and analyses data from the entire spectrum of events. Only in this way can it create a comprehensive picture of the real situation.
4. Integrations
The number of third-party platforms that the driver can connect to their car will continue to increase. You have to be prepared for this and choose a solution that will be able to evolve along with market changes. The openness of the system (combined with its security) will keep you going and expand your potential monetization possibilities.
When the system is shut down, you may have to replace some devices or make constant programming changes to communication protocols in the near future.
5. Reports
With this amount of data, since thousands or even hundreds of thousands of vehicles can be pinned to the platform – transparent data reporting becomes necessary. Some of the information may be irrelevant, some will gain significance only in combination with others, some will be more or less important for your business (different aspects will be pointed out by a company operating in the area of ​​shared mobility, as opposed to a company managing a lorry fleet).
Your IoT platform must enable you to easily access, select and present key information in a way that will be clear to each employee, not business intelligence experts only.
We need data to draw constructive business conclusions, not to be bombarded with useless information.
Top market solutions – use cases of the biggest automotive brands
All right. So what solution should you opt for? There is no one, obvious answer to this question. It all depends on your individual needs, the scale of the business, and the cooperation model that is key for you.
You can focus on larger market players and scalable solutions – e.g. the Microsoft Azure platform or AWS by Amazon or on services in the SaaS model provided e.g. by players such as Otonomo, Octo, Bosch, or Ericsson.
Microsoft Azure x Volkswagen

The Azure platform, created by the technological giant from Redmond, has been known to developers and cloud architects for a long time. No wonder that it is often used by the most famous brands in the automotive industry. Microsoft is supported by the scale of its projects, excellent understanding of cloud technologies, and experience in creating solutions dedicated to the world's largest brands.
In 2020, based on these solutions, Volkswagen implemented its own Automotive Cloud platform (by its subsidiary – CARIAD, previously called CarSoftware.org.) 
Powered by Microsoft Azure cloud and IoT Edge solutions, the platform will support the operation of over 5 million new Volkswagens every year. The company also plans to transfer technology to other vehicles from the group in all regions of the world, and by doing this, laying the foundations for customer-centric services.
As the brand writes in its press release, the platform is focused on "providing new services and solutions, such as in-car consumer experiences, telematics, and the ability to securely connect data between the car and the cloud."
For this purpose, Volkswagen has also created a dedicated consumer platform – Volkswagen We, where car users will find smart mobility services and connectivity apps for their vehicles.
AWS x Ford and Lyft

Over 13 years on the market and "165 fully featured services for computing, storage, databases, networking, analytics, robotics, machine learning and artificial intelligence (AI), Internet of Things (IoT), mobile, security, hybrid, virtual and augmented reality (VR and AR), media…." support AWS, or the Amazon cloud solutions.
For people from the automotive industry, a great advantage is a huge brand community and an extensive ecosystem of other services such as movie streaming (Prime Video), voice control (Alexa), or shopping in Amazon Go stores, which can create new business opportunities for companies providing automotive solutions.
The Amazon platform was selected, among others, by the Ford Motor Company (in cooperation with Transportation Mobility Cloud), and by Lyft in the shared mobility sector.
Ford and creators of the Transportation Mobility Cloud (TMC) Autonomic justified the choice of that solution as follows: [we choose] "AWS for its global availability, and the breadth and depth of AWS' portfolio of services, including Internet of Things (IoT), machine learning, analytics, and compute services". The collaboration with Amazon is intended to help the brands expand the availability of cloud connectivity services and connected car application development services for the transportation industry".
Based on the Amazon DynamoDB (NoSQL database) service, Lyft chose Amazon services to be able to easily track users' journeys, precisely calculate routes and manage the scale of the process during the communication peak, holidays, and days off.
Chris Lambert, CTO at Lyft, commented on the brand's choice: "By operating on AWS, we are able to scale and innovate quickly to provide new features and improvements to our services and deliver exceptional transportation experiences to our growing community of Lyft riders. […] we don't have to focus on the undifferentiated heavy lifting of managing our infrastructure, and can concentrate instead on developing and improving services with the goal of providing the best transportation experiences for riders and drivers, and take advantage of the opportunity for Lyft to develop best-in-class self-driving technology."
BMW & MINI x Otonomo

Transforming data to revolutionize driving and transportation. Otonomo, the IoT platform operating in the SaaS model, using this slogan is trying to convince the automotive industry to avail of its services.
Among its customers, BMW and belonging to the same MINI group are particularly noteworthy. The vehicles have been connected to the platform in 44 countries and are intended to provide additional information for road traffic, smart cities, and improve the overall driving experience.
Among the data to be collected by the vehicles, the manufacturer mentions information on the availability of parking lots, traffic congestion, and traffic itself in terms of city planning, real-time traffic intelligence, local hazard warning services, mapping services, and municipal maintenance and road optimization.
Volvo x Ericsson Connected Vehicle Cloud

Partnerships with telecommunications companies are also a common business model in creating cloud services for vehicles. This kind of cooperation was chosen by Volvo, e.g. whilst working with Ericsson. Anyway, this cooperation dates back to 2012 and is constantly being expanded.
Connected Vehicle Cloud (CVC) platform, as its producer named it, allows Volvo to "deliver scalably, secured, high-quality digital capabilities, including a full suite of automation, telematics, infotainment, navigation, and fleet management services to its vehicles. All software is able to be supported and seamlessly updated over-the-air (OTA) through the Ericsson CVC".
Mazda x KDDI & Orange IoT

In 2020, connected car services also made their debut in Mazda, specifically the MX-30 model. Like the Swedish vehicle manufacturer, a local technology partner was also selected here. It was KDDI, the Japanese telecommunications tycoon. (Orange became a partner for the European market).
With Mazda's connection to the IoT cloud, the MyMazda App has also been developed. The manufacturer boasts that in this way they introduced a package of integrated services, "which will remove barriers between the car and the driver and provide a unique experience in using the vehicle". The IoT platform itself is geared to offer drivers a higher level of safety and comfort.
What counts is the specifics of your industry and flexibility of the platform
Regardless of which solution you choose, remember that security and data management are an absolute priority of any IoT platform. There is no one proven model because the automotive industry also has completely different vehicles, goals, and fleet scales.
Identify your key needs and make your final choice based on them. The IoT platform should be adjusted to your business, not the other way round. Otherwise, you will be in for constant software updates and potential problems with data management and its smooth monetization.

Do you need advice on which platform to choose? You want to implement IoT solutions in your own company, but you don't have the right team. Specialists at Grape Up are at your disposal. Contact us, together we will find the optimal solution for your business.

---
---
Check related articles
---
Read our blog and stay informed about the industry's latest trends and solutions.
---
see all articles
---
---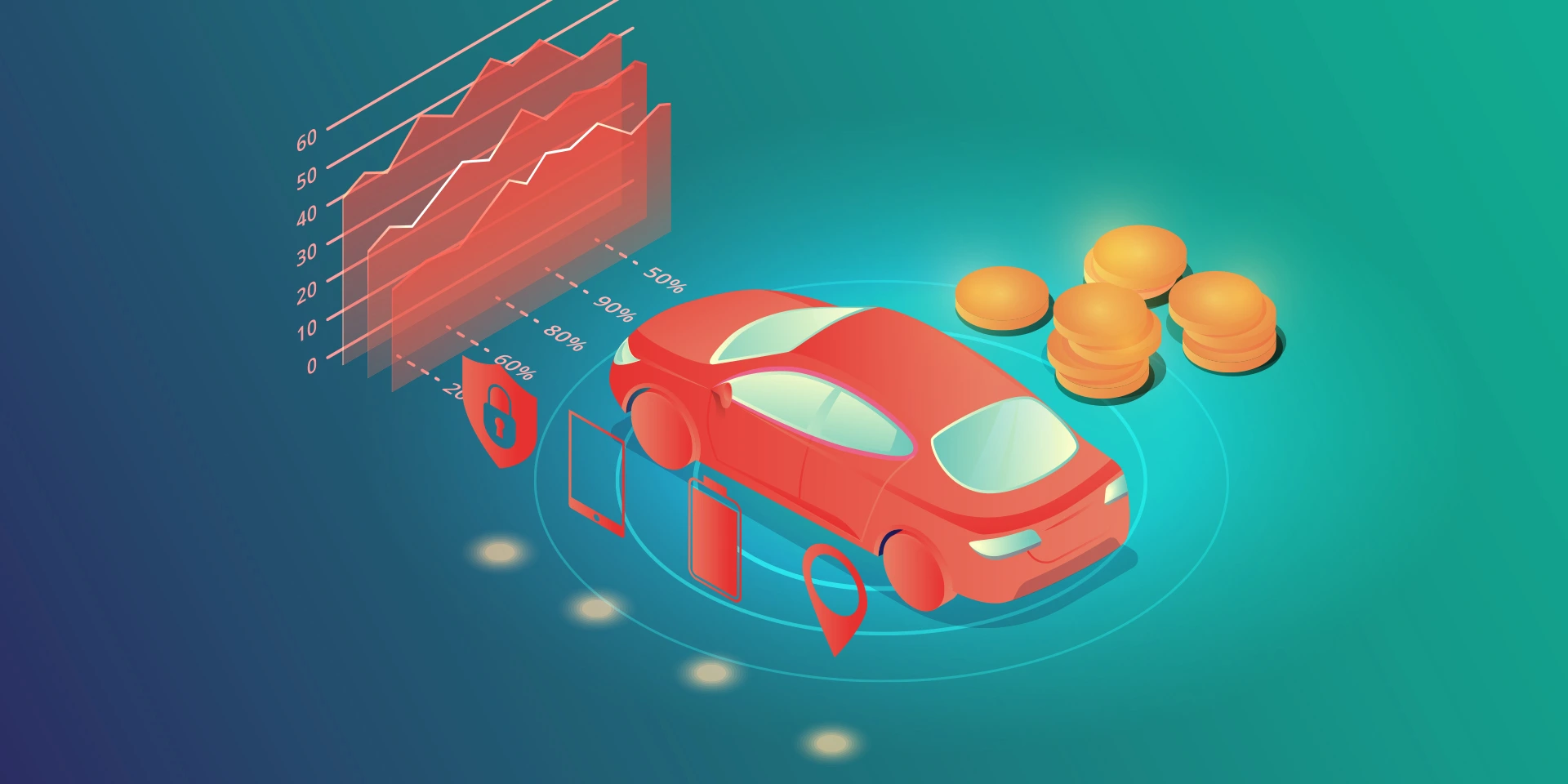 ---
How to Monetize Car Data – 3 Strategies for Companies and 28 Practical Use Cases
---
Read the article

---
Machine Learning at the Edge – Federated Learning in the Automotive Industry
---
Read the article