By 2025, over 400 million connected cars will be on the road. Car rentals and fleet managers can use connected car data to manage their vehicles more effectively and increase revenue. A huge part of that approach is related to dynamic pricing – a data-driven technique enabling you to set the best prices for your service. Let's have a look at how your business can benefit from dynamic pricing and connected car data.
Vehicles generate tons of valuable information. Most of it comes from their engine control units (ECUs) that collect data from many different sensors within the engine and controller area networks that enable microcontrollers and devices to communicate.
Thanks to data coming from these and other sources, the car rental company can have immediate access to telemetry data, including:
The specific vehicle's location
Its current engine status and speed
The vehicle's status (e.g., if the car is locked) etc.
As a derivative of the telemetry data, you can also understand the driving style of a given driver.
Interestingly, the connected car penetration has already surpassed that of non-connected cars (over 50% market share in Q2 2022)[1].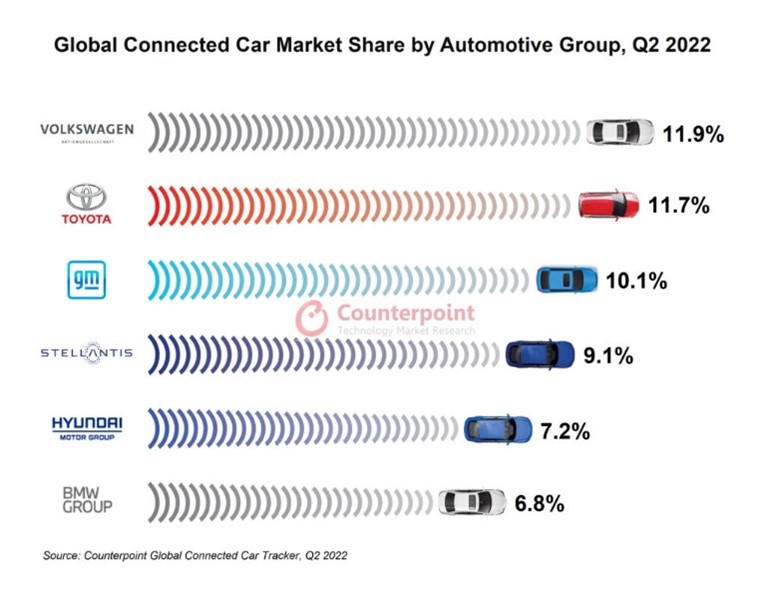 Because connected car data provides automotive businesses with useful input (especially when combined with web and market data), car rentals and fleet managers can use it to adjust their offers and, thus, grow revenue. Here, dynamic pricing is the most prominent solution.
What is dynamic pricing?
In a nutshell, it's a data-driven strategy that exploits intelligent algorithms (frequently based on machine learning and automation) to set and maintain the best prices within specific market conditions.
Dynamic pricing algorithms continually analyze the available data (coming from the website, the market, and the vehicles themselves) and use it to automatically adjust prices and other service conditions available on your website or in your app.
As a result, prices for renting a car can be optimized multiple times a week (or even a day) depending on:
Current demand and car availability
Time of day
Traffic conditions
Fuel prices
Previous driving history of a given user
And even the likelihood that a given person will be happy to pay more for the service (e.g., because they are running out of battery in their cellphone and they need to arrange transportation quickly)
Dynamic pricing is prevalent in both large car rentals, rideshare companies, and mobility-as-a-service providers, such as Uber. And speaking of Uber, some time ago, Forbes published an article explaining how Uber's pricing works. They use an advanced dynamic pricing algorithm based on AI and multiple price points to determine the optimal price each user sees in their app.

As a result, Uber can charge the optimal rate for every ride, which helps them make more money. A similar solution can be introduced in any car rental company.
But the price of the service is just one puzzle piece. When it comes to car rentals, there are other conditions and fees renters have to be aware of before signing on the dotted line. Here, connected car data can also be of help! Let's dig a bit deeper.
Dynamic pricing, connected car data, and the question of the insurance
Renting a car involves additional fees, primarily insurance, which is almost always mandatory. It stands to reason that this fee should also be dependent on a given driver and their experience and driving habits.
Insurance companies have been collecting data about drivers' behaviors for years. And yes, they've been using it to calculate insurance premiums and offer discounts (so-called usage-based insurance – UBI). Today, it's possible thanks to mobile applications that have to be always on when driving a car. Such an app can track each driver's behavior on the road. Soon, though, connected car data will replace these apps altogether.
Although this idea is still in its infancy, we can expect that it will be shortly doable on a large scale, especially given the fact that the number of connected vehicles is continually going up (the global connected car market size is projected to reach almost USD 192 billion by 2028 – CAGR of 18.1%[2]).
The first applications enabling the implementation of dynamic pricing in car insurance are already here. Thanks to millions of connected cars offering trillions of data points, car rental companies can understand their customers and their driving behaviors.
This knowledge can be used to offer cheaper insurance and other rental fees to renters with a proven history of safe driving. Another idea worth considering is using data from connected vehicles to improve reward and loyalty programs (a safe driver could get discounts to rent a car or get additional loyalty points).
However, there are still some challenges that need to be addressed.
The challenges of making the most of connected car data…
As McKinsey explains in their recent report, "many OEMs have struggled with connectivity or related software developments, resulting in poor customer reviews and delayed start of production". Car manufacturers and other OEMs struggle with convincing customers that car-connectivity services deliver additional value. Add poor execution of services and communication issues to the mix, and it becomes obvious that consumers are still a bit reluctant towards such services. It's the same story with usage-based insurance.
In 2021, there was a survey conducted in Canada concerning UBI. 77% of Canadians are concerned about potential rate hikes. And 51% are hesitant in case it negatively affects their current insurance rates[3].
And then, there is the data management issue. McKinsey estimates you need to access 1 to 2 terabytes of raw data per car each day to fully benefit from connected car data. That means huge data centers capable of processing all that information daily.
…and the inevitable future
The future of the automotive industry is software-centric, and car rentals and fleet management companies are no exception. As the number of connected vehicles goes up, we will be able to benefit from more advanced data-driven solutions.
At GrapeUp, we tirelessly work on them every day! We develop custom solutions for both OEMs and car rental companies that enable collecting data, seamless processing, and even distributing it further. All to allow you to make more money.
If you run a car rental company, we can help you implement the solutions discussed in this article. To find out more, see our offer for the automotive sector.
---
[1] https://www.counterpointresearch.com/global-connected-car-market-q2-2022/
[2] https://www.globenewswire.com/en/news-release/2022/08/17/2499966/0/en/Global-Connected-Car-Market-Size-to-Hit-USD-191-83-Billion-at-a-CAGR-of-18-1-for-2021-2028-Fortune-Business-Insights.html
[3] https://www.ratehub.ca/blog/ubi-saves-money-but-87-per-cent-not-trying-survey-data/