---
In-Car Infotainment: How to Build Long-Term Relationships and Unlock New Revenue Streams
---


With the automotive industry seeking to create a more comfortable and enjoyable travel experience for its customers, automakers and designers are stepping up investment in in-car infotainment solutions. These technologies aim to personalize the travel experience by providing noise reduction, in-vehicle sound zones, and immersive audio/video content tailored to the driver's lifestyle. And more importantly, they contribute to building OEM customer loyalty, new revenue streams, and creating lasting customer relationships.
Four in-car entertainment strategies, almost endless opportunities to build a new offer
There is no turning back from in-car entertainment. The development of flat screens, broadband internet access, and the possibility of personalization and customization of content to the viewer are the reasons why no one is willing to give up this form of service.
For automakers, it's an opportunity to build a stronger relationship with their customers and create new (often subscription-based) revenue models. 
For the driver and especially for passengers, it's about overcoming the boredom associated with long journeys and introducing solutions into vehicles that until now have been known for their high-end audiophile systems. 
No wonder an increasing number of OEMs today are consciously developing the concept of the digital cockpit of the future. This approach is supposed to shift the focus from the practical functionality of the vehicle to providing compelling entertainment. 
Most popular in-car infotainment strategies
Of course, the process of change is not simple and cannot happen overnight. It requires continuous growth in vehicle technological performance, partially related to the car's GPU, E/E Architecture, 5G Internet access, and the development of new display forms. Nevertheless, OEMs have at their disposal one of the following four strategies for developing such solutions. 
1. Rear-Seat Entertainment
Using this strategy, entertainment is streamed to displays located in the rear seats or on the roof of the vehicle (for example, the BMW i7)… The user does not need to use a smartphone or tablet in addition to this solution to enjoy the leisure experience.
2. Any-Seat Entertainment
In this solution, content streaming can apply to all displays of the infotainment system in the car (including the driver's seat) – again without having to use smartphones and tablets to navigate. This concept allows video viewing, e.g., while charging an electric car. 
3. Augmented Entertainment
A step further can be taken by manufacturers who incorporate the capabilities of 4D cinema and AR applications into their offer. This approach creates a whole new kind of driver's cockpit and develops a unique UX that may become a vehicle's trademark. This type of screen has a variety of potential applications, such as displaying destination-related information, traffic warnings, or intelligent terrain mapping of other vehicles. In the near future, this technology may also be used for augmented marketing, such as showing interesting offers and discounts from nearby restaurants, shops, or malls on the windscreen.
4. Live Entertainment
Finally, real-time entertainment services enable car-to-car interaction and/or social networking among vehicle users. These types of solutions can be used to share viewing, commentary, and engagement among vehicle users through cultural events or music concerts, for example.
New possibilities of infotainment in cars. The 2022 perspective
The ability to combine modern audio-visual technologies with data analytics and personalized user information allows OEMs to create entirely new services and products, often ones previously unrelated to the automotive industry.  
Among these the most notable is, of course, streaming video and audio content, which is usually based on partnerships with third parties (e.g., Netflix, Amazon, YouTube, Apple TV or Spotify) and usually operate on a subscription model. In the future, the car is likely to become another medium where we can simply activate the service and continue watching videos, as we move from the living room to the vehicle.
Access to gaming platforms and services that will provide an interactive way of spending time for the driver and passengers while traveling or charging their EV.
A tourist offer that is related to visiting a particular place – acts as a virtual travel agency, which highlights specific points on the map and expands the knowledge of the visited locations (also in the form of quizzes or riddles for passengers). 
Audiovisual, highly personalized ads, tailored to the context of where we are traveling, the driver's needs, or resulting from the wear and tear of the vehicle components. 
Dynamic growth of the in-car infotainment market
With each passing year, there are new examples of interesting implementations in in-car entertainment, and the market itself is growing rapidly. In 2020, it was valued at more than $21 million, while by 2028 it is predicted to grow to more than $37.5 million, registering a CAGR of 7.5% from 2021 to 2028.
Below is a rundown of the most interesting advanced infotainment solutions that are becoming increasingly popular and have been implemented by specific OEMs in recent times.
Larger display and video entertainment on demand 
With large displays and the increasingly widespread streaming of video and audio content into the vehicle, a substantial base is becoming established for the development of infotainment in the automotive industry. 
It is all about introducing more immersive services and features in vehicles. This is especially relevant for EVs, because, after all, drivers need to pass their time somehow while charging their vehicles at public stations, and this can be done from the comfort of the car seat.
Total spending on video on demand is expected to reach $127 billion by 2025(11.8% CAGR). Video streaming alone is expected to account for 86% of revenues. 
The chart below illustrates how trends are changing in terms of screen sizes in today's automotive market. It is noticeable that, roughly since 2017, there has been a marked increase in the use of large displays in vehicles.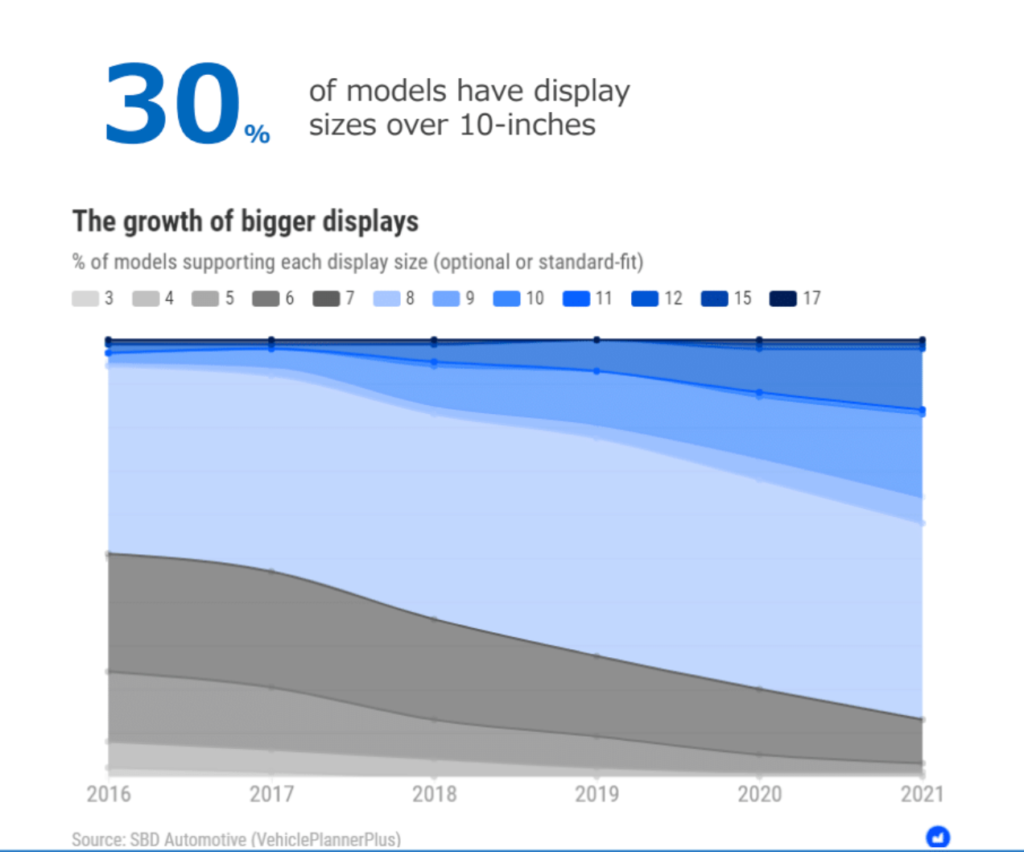 Continuing down this path, major OEMs are already announcing in-vehicle video streaming services that use this type of display and video entertainment. Some of the latest examples from the market are as follows:
Jeep Wagoneer and Grand Wagoneer from the Stellantis fleet have recently been offering Amazon Fire TV as infotainment for rear-seat passengers. It allows users to stream movies, shows, or games via a Wi-Fi hotspot or download content for later. The same service will also be implemented in vehicles from Ford Motor Co. factories.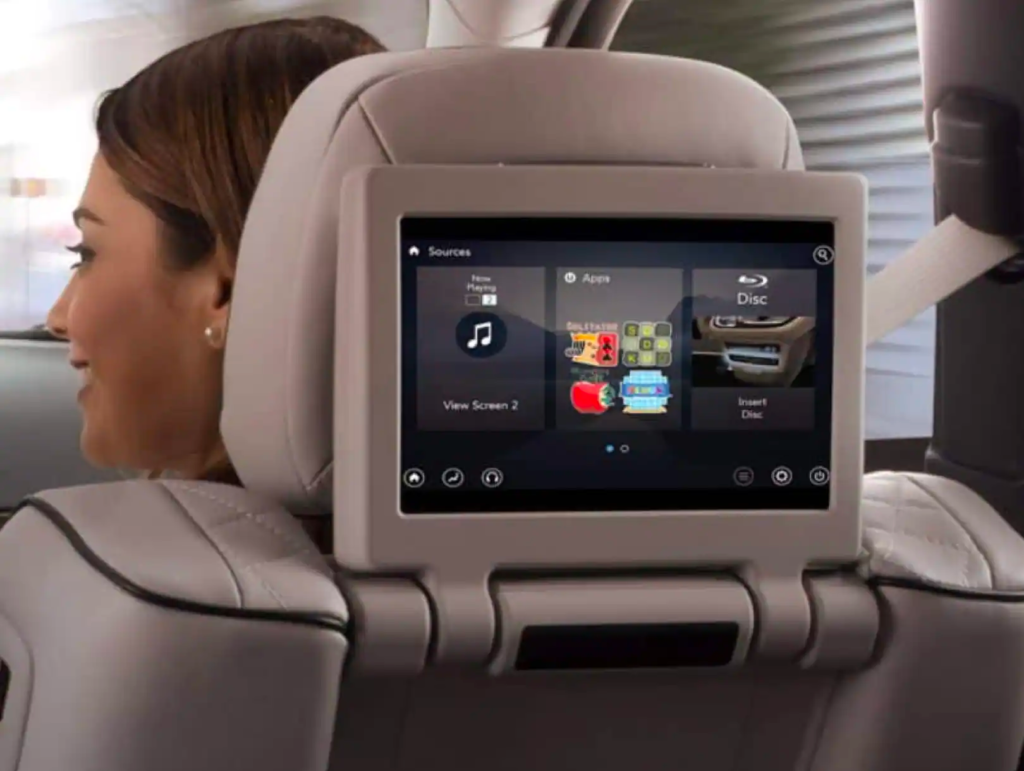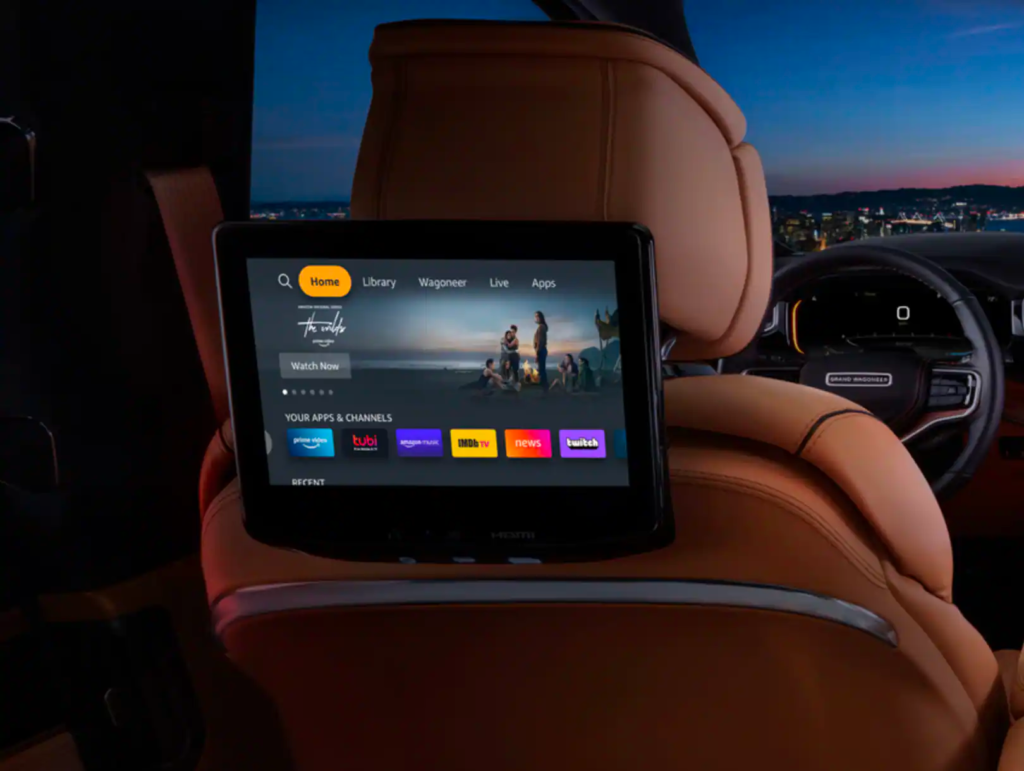 Volvo intends to implement a YouTube app, available via the Play Store in vehicles equipped with Google Automotive Services. The idea is to provide entertainment while charging an EV.
BMW has recently unveiled its proprietary Theater Screen concept. This mode adjusts lighting and dimming, converting the car's interior into a mobile theater. The idea is supposed to be workable thanks to a 31-inch widescreen display. It offers a 32:9 aspect ratio and 8K resolution and includes built-in Amazon Fire TV and smart TV features.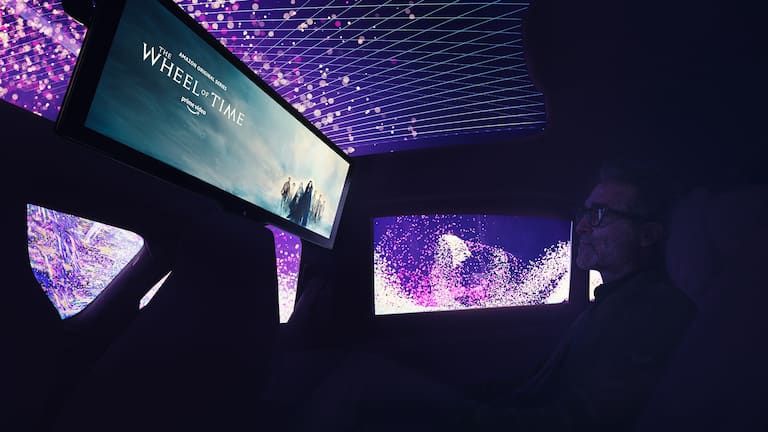 Enhanced in-vehicle display capabilities with flexible interactive displays
Design teams are persistently seeking ways to further integrate displays into the surface of a car's dashboard. Some of the most remarkable solutions in the automotive market today are Flexible Interactive Displays (FITs).
They allow manufacturers to provide more display areas for infotainment functions. All vehicle elements, such as Center consoles, pillars, and seat backs, can potentially be converted into one large screen. It could extend across the entire passenger space, turning the vehicle into a mobile movie theater or high-tech office. These types of solutions are already being tested by ROYOLE.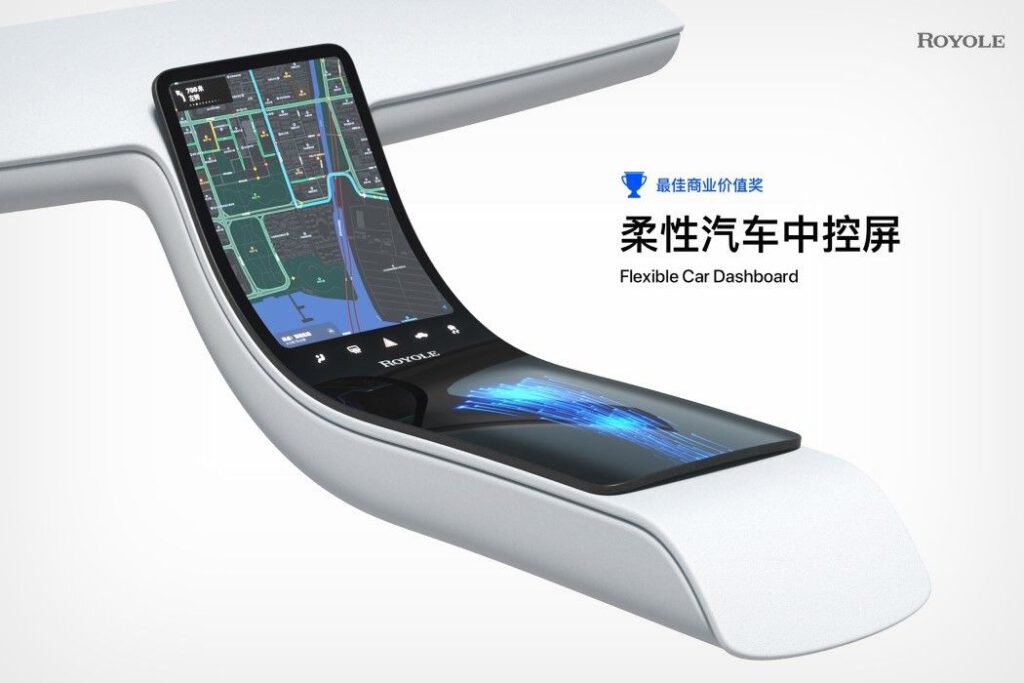 This technology is essential not only for convenience but also for safety. This is due to the idea of replacing layers of glass (traditionally used in automotive electronics) with durable plastic. 
In the future, it might be possible to build sensors (e.g. fingerprint reader) into the display area. This will enable the interface to be controlled from a screen spanning the entire surface. 
The sound provides a more comfortable experience 
While video content has only recently begun to make its way into cars, a good sound system and access to music have always been part of the automotive experience (in fact, for many consumers they were an essential factor in deciding whether to purchase a particular vehicle). Car manufacturers and designers are well aware of this and are stepping up their investments in the following solutions. 
Noise reduction. A focused anti-noise system prevents the penetration of noises common to driving but does not block sounds important to maintaining safety (such as emergency sirens). Next-generation active noise cancellation has been applied, for example, in the new Cadillac Lyriq, where it intelligently measures road vibrations and, using an AKG speaker system, actively reduces noises from outside.
In-vehicle Sound Zones. This allows the driver and passengers to access different audio content. There is also an option to share the same sound at different volume levels. An additional advantage of such solutions is that unwanted music from the back seat does not distract the driver during the ride.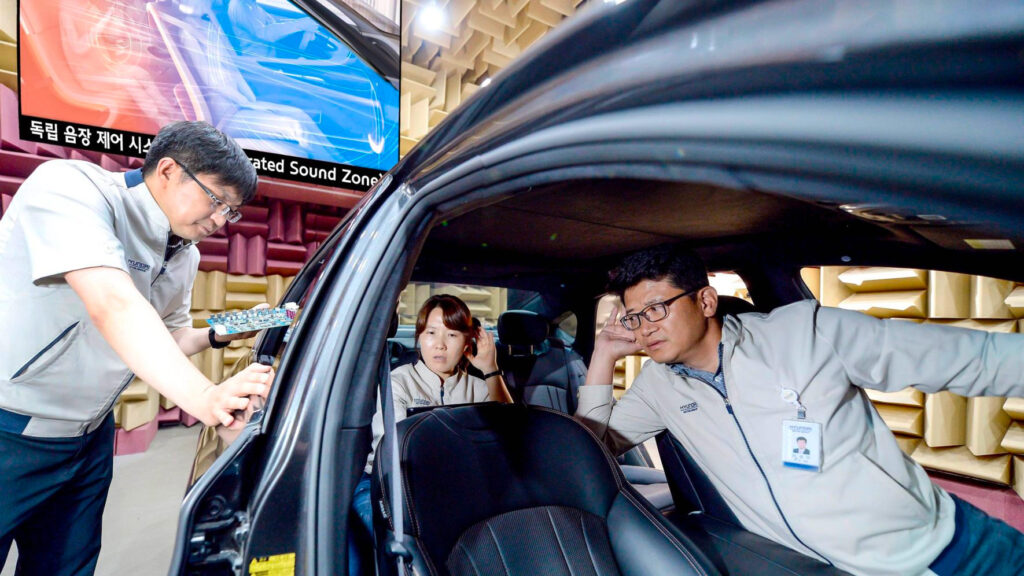 Hyundai, for example, is testing such a solution. Whilst using the latest-generation Separated Sound Zone(SSZ) technology developed in-house, the Asian brand is able to create and control sound fields in the car. Both the driver and each passenger are able to hear isolated sounds without a headset. 
Immersive solutions customized to the driver's lifestyle
Key players in the market are becoming bolder in developing immersive technologies in their vehicles and emphasizing personalized options to tailor the journey to the user's specifications.
Developed by Mercedes-Benz,  MBUX Hyperscreen is a prime example. It is designed to provide a high degree of individualized infotainment content. The vehicle users can determine for themselves which information to display in a specific place, in a specific order, and in line with a selected theme. In order to aggregate streaming content from various sources within its own vehicles, Mercedes has partnered with California-based ZYNC. The collaboration is expected to help develop a platform and interface that will allow access to digital entertainment from different providers.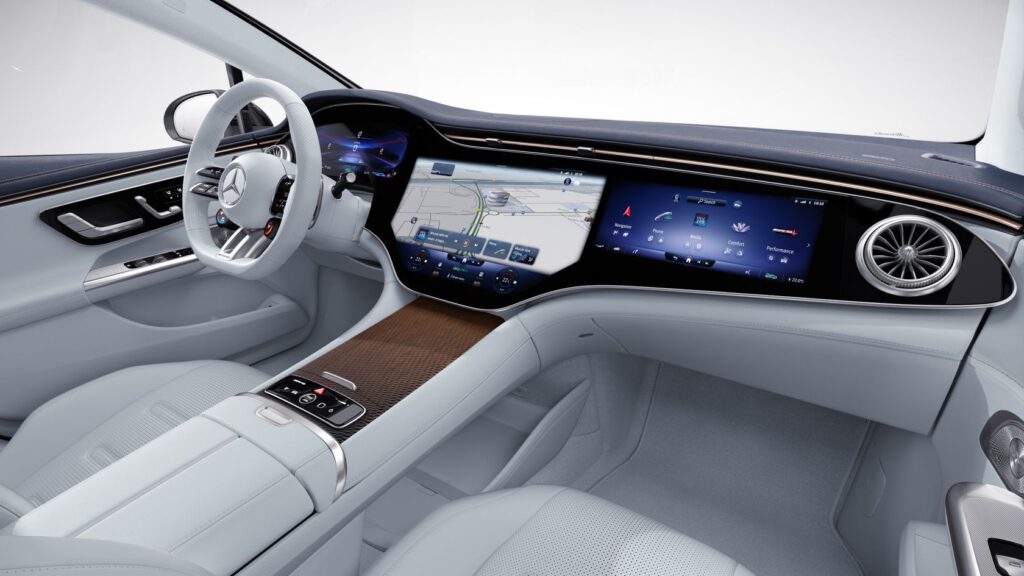 The designers of the NIO ES7 Electric SUV are taking it even further. This vehicle will be equipped with Banyan smart OS software and NIO's Aquila Super Sensing and Adam Super Computing platform. All of these will be combined with a compatible digital cockpit based on AR/VR. This is a golden opportunity to"immerse" yourself in a world filled with colors and sounds. The passenger riding in the back can delight in a 200+ inch "screen" and a 7.1.4 Dolby Atmos sound system.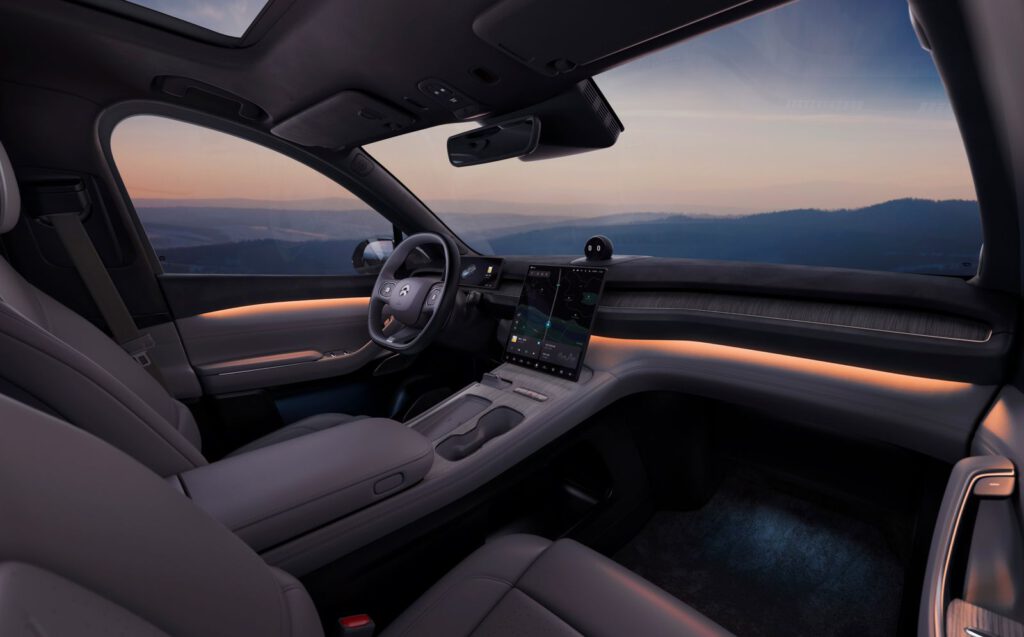 After all, the aforementioned EV is already being advertised by the developers as a "second living room," being a continuation of home entertainment. What is noteworthy is not just the audiovisual system itself, but also the options for dimming the lights or the appropriate choice of seat positions, which are supposed to make the viewer feel as if they are watching a movie at home. This is a perfect example of how the automotive industry is getting closer to the users, their daily life, and their habits.
Why is in-car infotainment a key to building long-term relationships and new revenue streams? 
Tremendous competition and market oversupply make it more difficult than ever to commit a customer to a brand. User loyalty needs to be built in many possible ways and new ways to reach out with an offer need to be sought. 
Car infotainment is at the cusp of dynamic development and is certainly one of the leading areas that can help find new groups of customers and create lasting relationships with them. 
This type of technology is no longer an add-on option, but an indication of "being up-to-date." Manufacturers who focus on the development of car infotainment become trendsetters and initiators of change. They make it clear that they follow their consumers, and understand their lifestyles and expectations. And this is not insignificant for the modern consumer.
Research shows that customers are willing to pay more for a vehicle with these types of solutions – we're talking about up to $10,000 for a single car. In contrast, more than 70% of younger millennials list infotainment technology and features as "must-haves" when buying a car.
With these statistics in mind, it is necessary to remain competitive in this area and constantly develop the offer. 
A special focus should be also put on the areas that build customer loyalty and connect them more strongly with the brand, for example:
access to media- based on a subscription model, 
rich entertainment offerings for the driver and passengers;
personalization features and adjusting to users' lifestyles;
a fine-tuned user interface (UX), for a seamless and intuitive experience.
If you combine seamless and intuitive in-car infotainment with a deep understanding of consumer needs, chances for building long-term relationships and unlocking new revenue streams grow dramatically.

---
---
Check related articles
---
Read our blog and stay informed about the industry's latest trends and solutions.
---
see all articles
---
---


---
What's Next for the Digital Twin
---
Read the article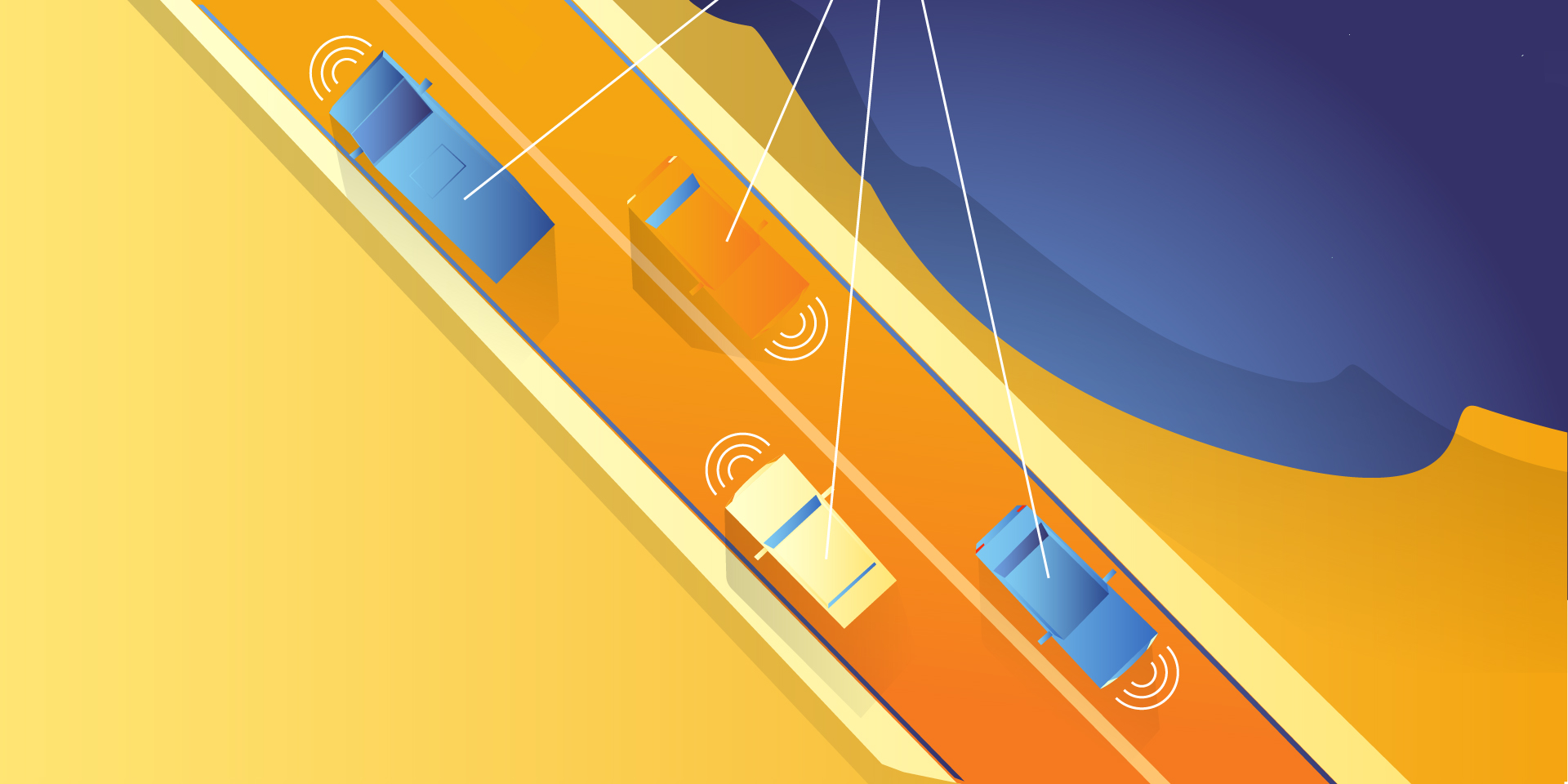 ---
V2X: What Needs to Be Done to Accelerate the Implementation
---
Read the article