---
How New Mobility Services Change the Automotive Industry
---

The automotive industry is changing right before our very eyes. Today, services based on the CASE model are looming on the horizon. They are capturing an increasing market share and gaining more and more each year in total dollar value. What's in store for the automotive sector and how automotive enterprises can seize these opportunities?  
New mobility services are emerging rapidly
By 2030, over 30 percent of the projected increase in vehicle sales due to urbanization and macroeconomic growth will be unlikely to happen owing to the shared mobility expansion.
In China, the European Union, and the United States, which are countries supporting shared mobility solutions, the mobility market could reach 28 percent annual growth from 2015 to 2030. Of course- this would be the most optimistic scenario. FutureBridge specialists expect the shared mobility market to grow significantly over the next five to seven years at a CAGR of 16 percent from 2018, reaching 180 billion dollars by 2025. How can the growing demand for new mobility services be explained?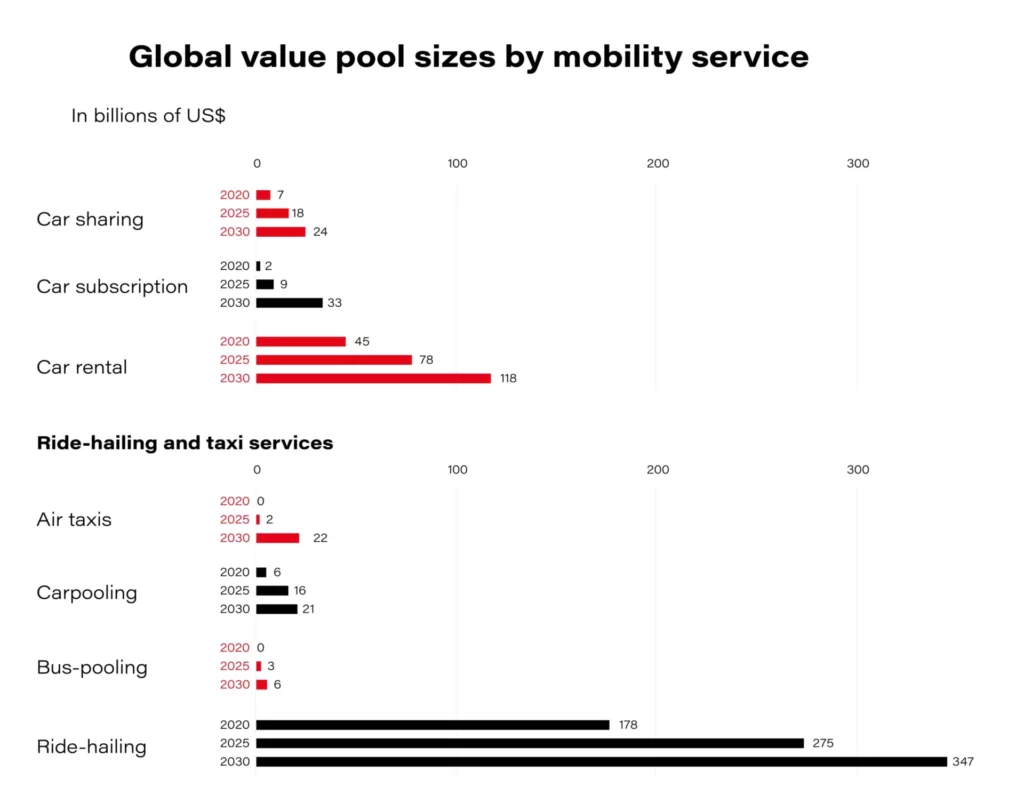 On the one hand, the automotive industry deals with changing consumer preferences. One travels by car covering shorter distances, but much more frequently. And it doesn't have to be by car at all, as new means of transportation are becoming more accessible. 
On the other hand, soaring car prices (though cars lose their value a few months after the purchase) prompt us to search for other, cheaper alternatives that provide optimal driving comfort anyway.
How will companies relying on the traditional car ownership model respond to this trend? They will provide new services such as substitution models, in which, for a once-off monthly payment, you can have a new car with insurance, maintenance, roadside assistance, etc. Subscriptions will soon account for about 15% of new car sales and should have risen to 25% by 2025. In this context, new mobility in the form of rental and ride-sharing services, which are also part of the transformation on the roads, also becomes significant.
The third thing is growing technology, based on the CASE model(Connectivity, Autonomous driving, Shared mobility, Electrification,) that empowers the development of new mobility services on an unprecedented scale. According to Microsoft experts, by 2030 virtually all new cars will have been connected devices, functioning as data centers on wheels. 
6 leading new mobility services 
Carsharing
A short-term car rental model that allows users to choose a vehicle and pick-up/drop-off location. Users can determine vehicles and flexible rent times. Operators gain high ROI with high utilization and minimal staffing.
Examples: citybee, E-VAI, fetch
Ride-hailing
A form of cab rental in which the drivers are usually contractors using their private vehicles rather than direct employees. The user has immediate availability and payment is handled through the operator. The benefits are also the ability to track and monitor journeys. For operators instead, traditional fleet costs must be handled by the drivers. It's an easily scalable service.
Examples: Uber, Lyft, Bolt, marcel, OLA
P2P Sharing
this service allows vehicle owners to rent their vehicles when they are not currently in use. BMW-run ReachNow is piloting a version of this type of service, which allows Mini owners to offer their currently unused vehicles for rent. The benefits for users are the lower costs than traditional vehicle rental. Meanwhile, the operator has no fleet to manage and gets access to an easily scalable model of business.
Examples: HoppyGo, SnappCar
Carpooling
Allows users to join an already scheduled trip. The operating company acts as an "intermediary" through which rides can be announced and joined. Carpooling can apply both to people taking a trip alone and to those who want to share rides to reduce the total cost of the trip for a single passenger. It's a cheap and environmentally friendly service. What is more, the operator has a higher margin per ride and no fleet to manage.
Examples: BlaBlaCar, GoMore, liftshare
Car rental
The evolution of the traditional car rental by the day, allowing users to rent cars for different periods without the traditional hassle associated with this type of service. From the user's point of view, such new services enable an easier and quicker process of vehicle rental. Also, it's possible to choose a vehicle before finalizing the rental. In turn, the operator has less staffing than a traditional rental and can utilize already existing fleets.
Examples: Audi Silvercar, Hertz, Sixt, PORSCHE DRIVE, UBEEQO
Multimodal
An integrator of public transport mobility services, as well as other modes of transportation, such as public transportation, rail networks, and even cabs. The goal of such services is to get people from their starting point to their destination in the fastest, cheapest, or most efficient way, depending on individual needs. In this model, the operator gets access to additional potential users and has relatively low costs of deployment due to a lack of physical assets.
Examples: FREE2MOVE, whim, Google Maps 
Which new mobility services are growing the fastest?
Of the 55 providers of the aforementioned new mobility services operating in European countries, the most popular are those in the area of carsharing(51%). The second most popular are car rental services(20%), followed by P2P sharing(13%).
In terms of ownership, most new mobility services were OEM owned (over 36%), although many of them were independent (over 38%). Also included were OEM invested services (31%). 
Technologies and functionalities fueling the development of new mobility services
Mobility services are based on advanced software that uses, at least, the Internet of Things, to transfer data from the vehicle to the cloud. Then the individual information is available on the user's mobile application.
For services based on unmanned vehicle rental, modern security features have been considered when it comes to opening and closing the car.
With a view to minimizing possible problems, the developers of digital new mobility services are also introducing a fault reporting option.
Below is a selection of the most common functionalities and technologies in detail for each new mobility service in Europe.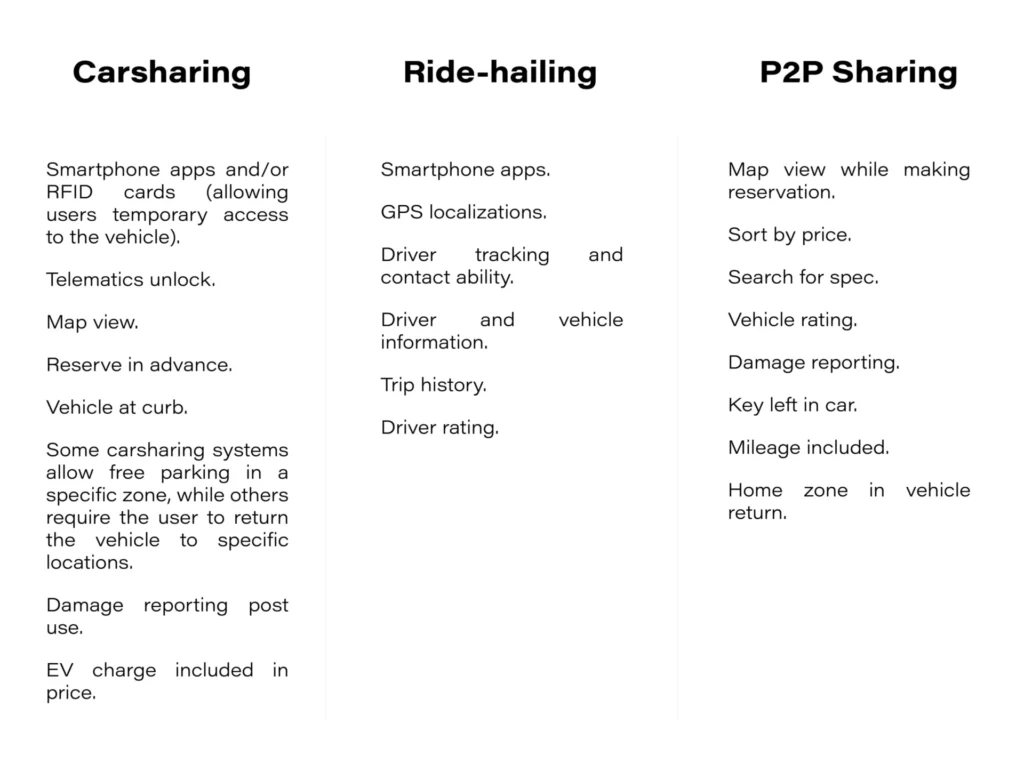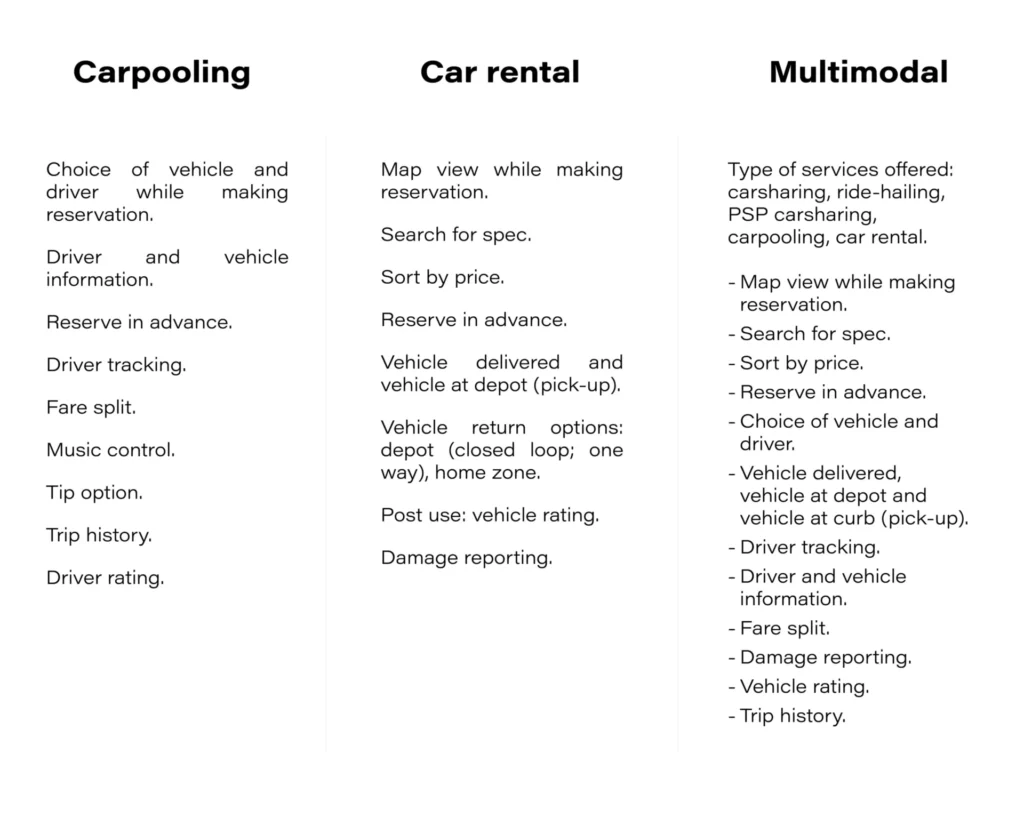 All of these and other options provide guidance and a certain pattern of behavior for future developing OEMs.  
Key factors crucial for the development of new mobility services
CASE trends provide new opportunities for the vehicles of the future. However, the interrelationships between software, in-car sensors, and electronic systems require a huge amount of resources, especially when we are talking about reliable operations that translate into a competitive advantage of new mobility services and popularity among potential users.
Therefore, if you want to develop in this area, consider at least these few factors.
Cybersecurity. In addition to creating huge amounts of code, what also matters is that your user data tracking processes comply with the standards and regulations that apply in your geographic region.
Careful listening to user needs. In order to compete with technology start-ups, OEMs should focus on innovative digital solutions oriented towards actual consumer expectations. What matters is flexibility, when it comes to the portfolio of functionalities.
Certainly, emotion is a factor that must be taken into account. Solution providers should care about providing unique experiences and sensations that will make the user eager to re-use a particular service, and in the process, spread it to their community. 
Flexibility and scalability. You need to be prepared not only to meet the changing expectations of customers who come in with feedback but also to expand functionality to include those that competitors already have (or to offer completely innovative solutions).
Being ready to expand the offering. For example, with new types of vehicles: not only internal combustion but also hybrid, electric; not only cars but also city scooters, etc.
If you want to deal with the challenges that come with developing new mobility services and are considering the above and other growth factors, contact Grape Up. We can help you expand your business in terms of features and values appreciated by today's conscious consumers.

---
---
Check related articles
---
Read our blog and stay informed about the industry's latest trends and solutions.
---
see all articles
---
---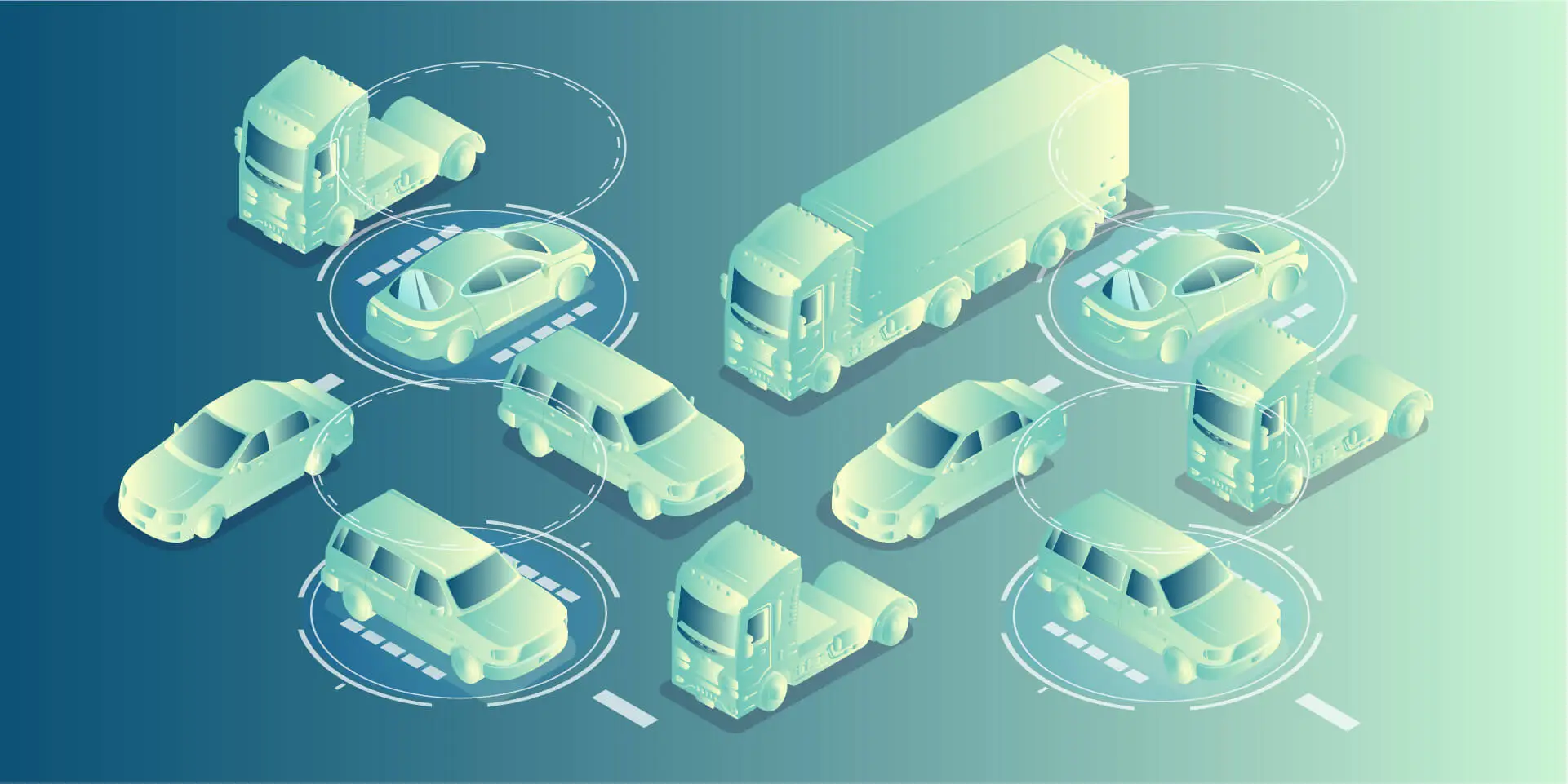 ---
Software-Defined Vehicle and Fleet Management
---
Read the article

---
Over-The-Air Upgrade: How to Develop the Concept Successfully
---
Read the article