---
What's New in the Truck Industry
---

64% of truck industry CEOs say the future success of their organization hinges upon the digital revolution. This should come as no surprise, as transportation as we knew it a decade or two ago is slowly fading into obscurity. 
Operating standards in the industry are improving, and values such as speed, efficiency, eco-friendliness, and safety are reverberating in announcements at industry conferences and in truck industry reports. 
Self-driving, fully autonomous vehicles, mainly electrically powered and based on AI and the Internet of things, are transforming 21st-century transportation. It is well worth taking a look at examples of solutions implemented by innovators with substantial development capital. 
Solutions that translate into safety and driving performance of larger vehicles 
Some innovations, in particular, are shifting the industry forward. And they are literally doing so. Developments like autonomous vehicles, electric-powered trucks, Big Data, and cloud computing have modified the way goods and people are transported. Smart analytics allows for more efficient supply chains, but not only that. It also enhances driving safety and the experience of traveling long distances. 
High-tech trucks break down less frequently and cause fewer accidents. And self-driving technologies, which are still being developed, enable you to save time and money. 
AI, Big Data, Internet of things 
Better location tracking, improved ambient sensing, and enhanced fleet management. All these benefits can be achieved by implementing IoT solutions.  
Composed of devices and detectors in the vehicle and in the road infrastructure, the network is a space for the continuous exchange of data in real-time. It provides information about the conditions on the route, but also whether the cargo is stable (tilt at the level of the pallet or package), and whether the pressure in the tires is at the right level. This facilitates the work of drivers, shippers, and management. 
This solution is applied, for instance, at one of the globally leading logistics companies, Kuehne + Nagel. The company uses IoT sensors and a cloud-based platform in its daily work. It simply works.  
The use of artificial intelligence algorithms is equally important. Advanced Big Data analytics, coupled with AI, allows companies to make decisions based on accurate, quality data. According to Supply Chain Management World research, 64 percent of executives believe that big data and coupled technologies will empower and change the industry forever. This is because it will improve performance forecasting and goal formulation even further. 
Performance indicators are measured in this way by the logistics company Geodis. With their proprietary Neptune platform, they leverage real-time coordination of transportation activities. With one app and a few clicks, carriers and customers can manage all activities during transport. 
Failure prevention 
Software-based solutions in the trucking industry are eradicating a number of issues that have previously been the bane of the industry. These include breakdowns, which sometimes take a fleet's operationally significant "arsenal" out of circulation. You can find out about such incidents even before they happen. 
Drivers of the new Mercedes-Benz eActros, for example, have recently been able to make use of the intelligent Mercedes-Benz Uptime system. This service is based on more than 100 specific rules that continuously monitor processes such as charging. On top of that, they control the voltage history associated with the high-voltage battery. 
All information required in terms of reliability is available to customers via a special portal in the cloud. In this way, the German manufacturer wants to keep unexpected faults to a minimum and facilitate the planning of maintenance work for the fleet. 
Self-driving vehicles
Automated trucks equipped with short and long-distance radars, sensors, cameras, 3D mapping, and laser detection are poised to revolutionize the industry. They are also a solution to the problem of the driver shortage, though, as a matter of fact, we still have to wait a while for fully autonomous trucks.
However, there are many indications that there will be increased investment in such solutions. Just take a look at the proposals from tech giants in the US like Tesla, Uber, Cruise, and Waymo. 
The latter offers the original Waymo VIA solution, promising van and bus drivers an unparalleled autonomous driving experience. Waymo Driver's intelligent driving assistant, based on simulations with the most challenging driving scenarios, is capable of making accurate decisions already in the natural road environment. WD sees and detects what's happening on the road, in addition to being able to handle complex tasks of accelerating, braking, and navigating a wide turning circle.
Sustainable drive 
The sustainability trend is now powering multiple industries, with the truck industry being no exception. So it should come as no surprise that a rising number of large transport vehicles are being electrified. 
Tesla is investing in electric trucks, and doubly so, because in addition to making their Semi Truck an electric vehicle, Elon Musk's brand has additionally created its own charging infrastructure – a network of superchargers under the brand, the Tesla Supercharger Network.  As a result, ST trucks are able to drive 800 km on full batteries, and an additional 600 km of range can be attained after 30 minutes of charging.
Another giant, Volkswagen, is also following a similar approach. It is investing in electric trucks with solid-state batteries that, unlike lithium-ion batteries, provide greater safety and an improved quick-charging capability. In the long run, this is intended to lead to an increase of up to 250% in the range of kilometers covered. 
The mission to reduce CO2 emissions in truck transport is also being actively promoted by VOLTA. Their all-electric trucks are designed to reduce exhaust tailpipe emissions to 1,191,000 tonnes by 2025. A slightly smaller, but still impressive goal has been set by England's Tevva Electric Trucks. Their vehicles are expected to reduce CO2 emissions by 10 million tons by the next decade. 
Giants already know what's at stake 
Companies like Tesla, Nikola Corporation, Einride, Daimler, and Volkswagen already understand the need to enter the electric vehicle market with bold proposals. Major players in the automotive market are also targeting synergistic collaborations. For instance, BMW, Daimler, Ford, and Volkswagen are teaming up to build a high-powered European charging network. Each charging point will be 350 kW and use the Combined Charging System (CCS) standard to work with most electric vehicles, including trucks. 
Another major collaboration involves Volkswagen Group Research and the American company QuantumScape. The latter is conducting research on solid-state lithium metal batteries for large electric cars. This partnership is expected to enable the production of solid-state batteries on an industrial level. 
Smooth energy management
Truck electrification is not all that is needed. It is also essential that electric vehicles have an adequate range and unhindered access to charging infrastructure. In addition, optimizing consumption and increasing energy efficiency is also one of the challenges. 
It is with these needs in mind that Proterra has developed special Proterra APEX connected vehicle intelligence telematics software to assist electric fleets with real-time energy management. Electric batteries are constantly monitored and real-time alerts appear on dashboards. Fleet managers also have access to configurable reports. 
Meanwhile, the Fleetboard Charge Management developed by Mercedes offers a comprehensive view of all interactions between e-trucks and the company's charging stations. Users can see what the charging time is and monitor the current battery status. Beyond that, they can view the history of previous events. They can also adjust individual settings such as departure times and final expected battery status. 
Truck Platooning
More technologically advanced trucks can be linked together. Platooning, or interconnected lines of vehicles traveling in a single formation allows for substantial savings. Instead of multiple trucks "scattered" on the road, the idea is to have a single, predictable in many ways string of vehicles moving in a highly efficient and low-emission manner. 
How is this possible? The answer is simple: telematics. Telecommunication devices enable the seamless sending, receiving, and storing of information. Josh Switkes, a founder of Peloton, a leader in automated vehicles, explains how the system functions: We're sending information directly from the front truck to the rear truck, information like engine torque, vehicle speed, and brake application. 
Although platooning is not yet widespread, it may soon become a permanent fixture on European roads thanks to Ensemble. As part of this project, specialists, working with brands such as DAF, DAIMLER, MAN, IVECO, SCANIA, and VOLVO Group, are analyzing the impact of platooning on infrastructure, road safety, and traffic flow. However, the fuel savings alone are already said to be 4.5% for the leading truck and 10% for the truck following it.  
Smart sensors
Developers of automotive and truck industry technologies are focusing particularly on safety issues. These can be aided by intelligent sensors that allow a self-driving vehicle to generate alerts and take proactive action. This is how VADA works. This is Volvo's active driver assistance system, already being standard on the Volvo VNR and VNL models.
The advanced collision warning system, which combines radar sensors with a camera, alerts the driver seconds before an imminent collision. If you are too slow to react, the system can implement emergency braking automatically in order to avoid a crash.
Innovative design 
Changes are also taking place at the design stage of large vehicles. This is particularly emphasized by the makers of these cutting-edge models. One of the leaders in this field is VOLTA, which advertises its ability to create "the world's safest commercial vehicles". 
Their Volta Zero model provides easy and low level boarding and alighting from either side directly on the sidewalk. That's possible because the vehicle doesn't have an internal combustion engine, so the engineers were able to overhaul previously established rules. 
Dynamic route mapping and smart monitoring 
While GPS is nothing new, the latest software uses the technology to a more advanced degree. For instance, for so-called dynamic route mapping, i.e. selecting the shortest, most convenient route, allowing for possible congestion. Importantly, this works flexibly, adapting not only to road conditions but also, for example, to unexpected increases in loading, etc. 
Volta Zero also relies on the advanced route and vehicle monitoring. Using the Sibros OTA Deep Logger, you can receive up-to-date information on individual vehicles and the entire fleet. 
Shipping is not like it used to be 
Apart from the passenger car market changes, a similar revolution is underway in the truck and van industry. This transformation is called for as the problem is not only a shortage of professional drivers but also reducing the cost of transportation and increasing volume. So any loss-reduction initiative is of paramount value.
As for the solutions we have mentioned in this article, they will certainly not all be widely implemented in the next few years. For example, it is difficult to expect only electric-powered autonomous trucks to be on the road as early as 2027. What can be widely rolled out now is, for example, optimization of cargo loading (by predicting when the truck will arrive), better route finding (via advanced GPS), or predictive maintenance (early repair before it generates logistics costs). It is only the second step to progress toward full electrification and autonomization. 
Regardless of how the truck industry evolves over the next few or so years, it is definite that the changes will be based on the idea of a digital revolution, advanced software, and smart components. 
All this is geared to enhance mobility services, bringing aspects such as driving comfort, business efficiency, and safety to a new level. This is a fact well known to the big OEM players and to the tech and automotive companies that year after year are competing with each other in innovations.
If you're looking to streamline your fleet-based trucking and transportation business, tap into GrapeUp's expertise in software-defined vehicles.

---
---
Check related articles
---
Read our blog and stay informed about the industry's latest trends and solutions.
---
see all articles
---
---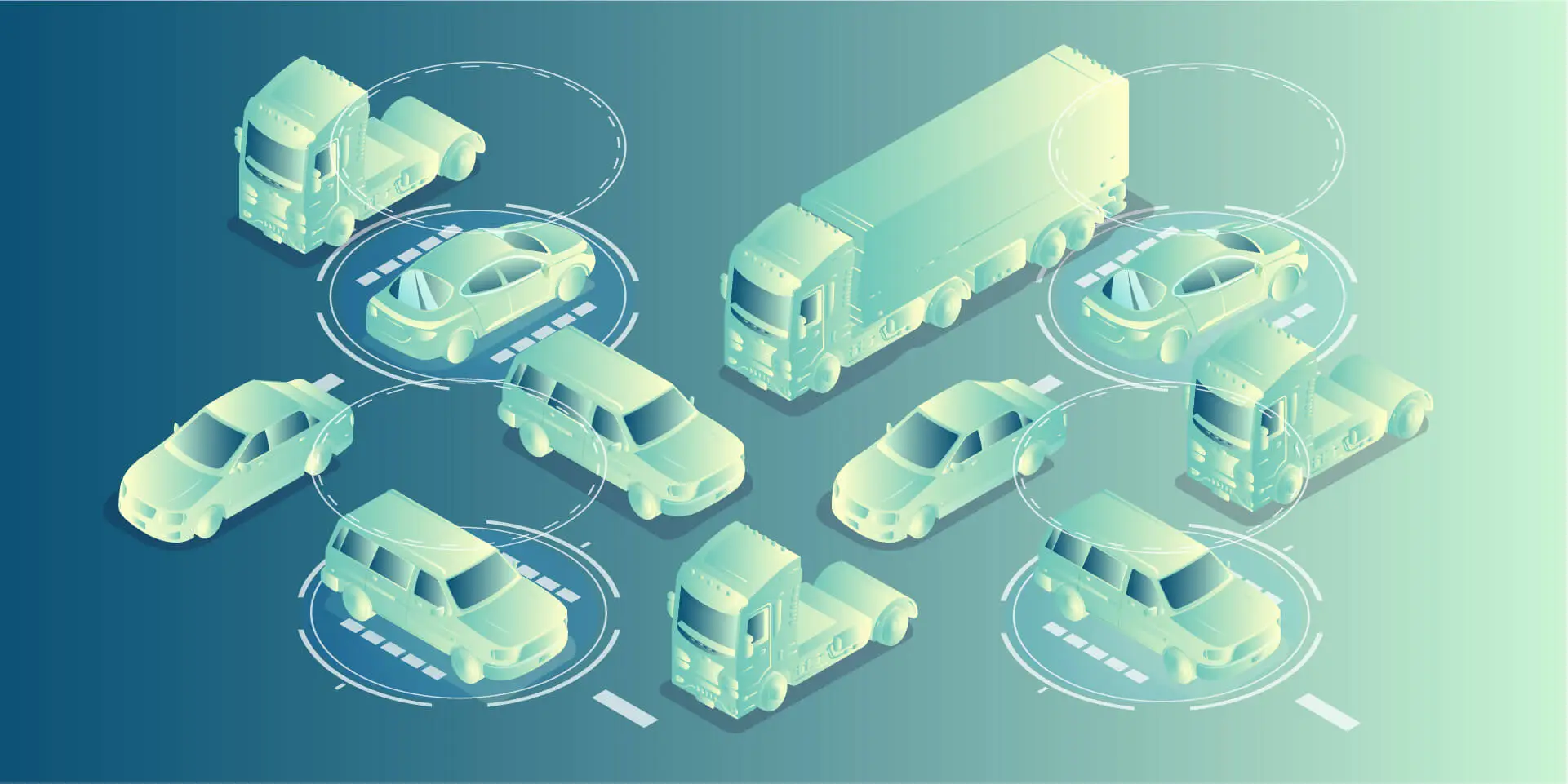 ---
Software-Defined Vehicle and Fleet Management
---
Read the article

---
Predictive Transport Model and Automotive. How Can Smart Cities Use Data from Connected Vehicles?
---
Read the article