---
Vehicle Automation – Where We Are Today and What Problems We Are Facing
---

Tesla has Autopilot, Cadillac has Super Cruise, and Audi uses Travel Assist. While there are many names, their functionality is essentially similar. ADAS(advanced driver-assistance systems) assists the driver while on the road and sets the path we need to take toward autonomous driving. And where does your brand rank in terms of vehicle automation?

Consumers' Reports data shows that 92 percent of new cars have the ability to automate speed with adaptive cruise control, and 50 percent can control both steering and speed. Although we are still two levels away from a vehicle that will be fully controlled by algorithms (see the infographic below), which, according to independent experts, is unlikely to happen within the next 10 years (at least when it comes to traditional car traffic), ADAS systems are finding their way into new vehicles year after year, and drivers are slowly learning to use them wisely.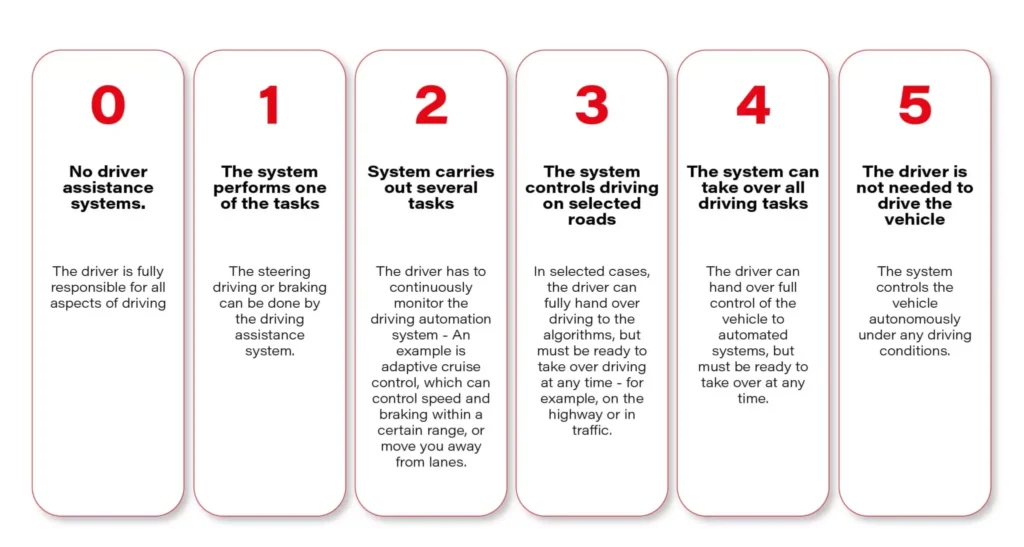 On the six-step scale of vehicle automation – starting at level 0, where the vehicle is not equipped with any driving technology, and ending at level 5 (fully self-driving vehicle) – we are now at level 3. ADAS systems, which are in a way the foundation for a fully automated vehicle, combine automatic driving, acceleration, and braking solutions under one roof.

However, in order for this trend to be adopted by the market and grow dynamically year by year, we need to focus on functional software and the challenges facing the automotive industry.
The main threats facing automated driving support systems
1. The absence of a driver monitoring system
Well-designed for functionality and UX, ADAS can effectively reduce driver fatigue and stress during extended journeys. However, for this to happen it needs to be equipped with an effective driver monitoring system.

Why is this significant? With the transfer of some driving responsibility into the hands of advanced technology, the temptation to "mind their own business" can arise in the driver. And this often results in drivers scrolling through their social media feeds on their smartphones. When automating driving, it is important to involve the driver, who must be constantly aware that their presence is essential to driving.
Meanwhile, Consumer Reports, which surveyed dozens of such systems in vehicles from leading manufacturers, reports that just five of them: BMW, Ford, Tesla, GM and Subaru – have fitted ADAS with such technology.

According to William Wallace – safety policy manager at Consumer Reports, "The evidence is clear: if a car facilitates people's distraction from the road, they will do it – with potentially fatal consequences. It's critical that active driving assistance systems have safety features that actually verify that drivers are paying attention and are ready to take action at all times. Otherwise, the safety risks of these systems may ultimately outweigh their benefits."
2. Lack of response to unexpected situations
According to the same institution, none of the systems tested reacted well to unforeseen situations on the road, such as construction, potholes, or dangerous objects on the roadway. Such deficiencies in functionality in current systems, therefore, create a potential risk of accidents, because even if the system guides the vehicle flawlessly along designated lanes (intermittent lane-keeping or sustained lane-keeping system) the vehicle will not warn the driver in time to take control of the car when it becomes necessary to readjust the route.

There are already existing solutions on the market that can effectively warn the driver of such occurrences, significantly increase driving comfort and "delegate" some tasks to intelligent software. These are definitely further elements on the list of things worth upgrading driving automation systems within the coming years.
3. Inadequate UX and non-intuitive user experience
All technological innovations at the beginning of their development breed resistance and misunderstanding. It's up to the manufacturer and the companies developing software to support vehicle automation to create systems that are straightforward and user-friendly. Having simple controls, clear displays and transparent feedback on what the system does with the vehicle is an absolute "must-have" for any system. The driver needs to understand right from the outset in which situations the system should be used when to take control of the vehicle and what the automation has to offer.
4. Lack of consistency in symbols and terminology
Understanding the benefits and functionality of ADAS systems is certainly not made easier by the lack of market consistency. Each of the leading vehicle manufacturers uses different terminology and symbols for displaying warnings in vehicles. The buyer of a new vehicle does not know if a system named by Toyota offers the same benefits as a completely different named system available from Ford or BMW and how far the automation goes.

Sensory overload affects driver frustration, misunderstanding of automation, or outright resentment, and this is reflected in consumer purchasing decisions and, thus, in the development of systems themselves. It is challenging to track their impact on safety and driving convenience when the industry has not developed uniform naming and consistent labeling to help enforce the necessary safety features and components of such systems.
5. System errors
Automation systems in passenger cars are fairly new and still in development. It's natural that in the early stages they can make mistakes and sometimes draw the wrong conclusions from the behavior of drivers or neighboring vehicles. Unfortunately, mistakes – like the ones listed below – cause drivers to disable parts of the system or even all of it because they simply don't know how to deal with it.
Lane-keeping assists freaking out in poorer weather;
Steering stiffening and automatically slowing down when trying to cross the line;
Sudden acceleration or braking of a vehicle with active cruise control – such as during overtaking maneuvers or entering a curve on a highway exit or misreading signs on truck trailers.
How to avoid such errors? The solution is to develop more accurate models that detect which lanes are affected by signs or traffic lights.
Vehicle automation cannot happen automatically
Considering the number of potential challenges and risks that automakers face when automating vehicles, it's clear that we're only at the beginning of the road to the widespread adoption of these technologies. This is a defining moment for their further development, which lays the foundation for further action.

On the one hand, drivers are already beginning to trust them, use them with greater frequency, and expect them in new car models. On the other hand, many of these systems still have the typical flaws and shortcomings of "infancy," which means that with their misunderstanding or overconfidence in their capabilities, driver frustration can result, or in extreme cases, accidents. The role of automotive OEMs and software developers is to create solutions that are simple and intuitive and to listen to market feedback even more attentively than before. A gradual introduction of such solutions to the market, so that consumers have time to learn and grasp them, will certainly facilitate automation to a greater extent and ultimately the creation of fully automated vehicles. For now, the path leading to them is still long and bumpy.

---