---
How to Monetize Vehicle Data Thanks to In-car Technologies – What's Inside a Software-Defined Vehicle – Part 2
---

The collection of data and its subsequent monetization wouldn't be possible without the ''attachment points" in the form of technologies already used in vehicles and controlled parts and systems. It's also common knowledge that car data monetization is based on three main sets of factors, covering quite different areas. These are automotive technologies, infrastructure technologies, and back-end processes. In this article, we are going to reverse-engineer in-car technologies.
There is no harvest without seeds. In relation to vehicles, these "seeds" are all the elements and systems that make data collection possible at all.

The proper design is the key when we talk about the effective use of information from the vehicle and from the users directly. Let's have a closer look at these crucial technologies.
8 technologies necessary to retrieve data from a vehicle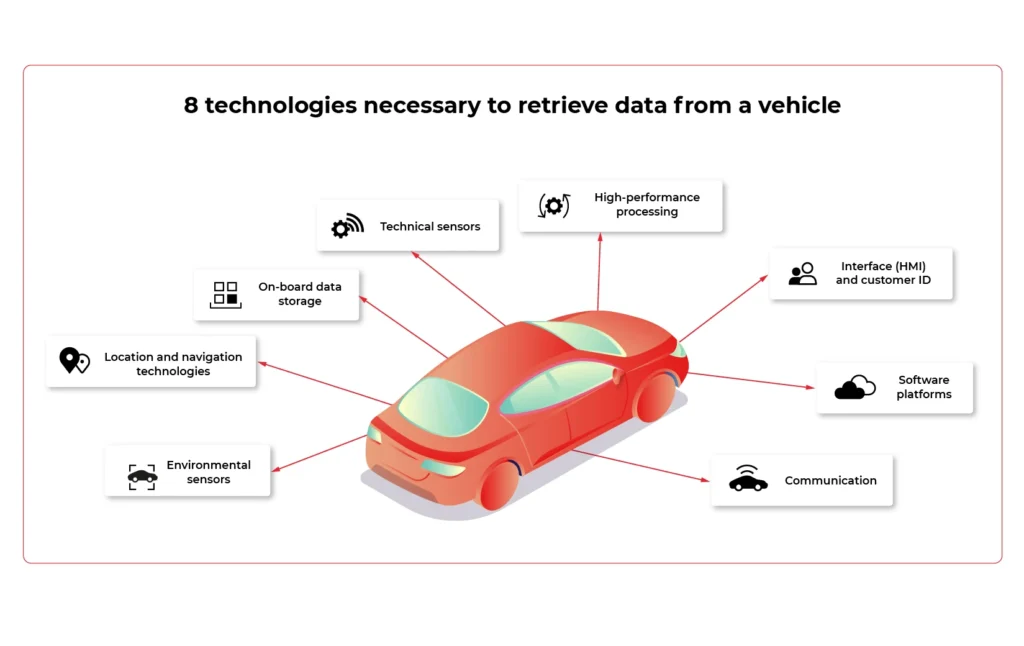 1. Technical sensors
For OEMs and suppliers, sensors are the foundation on which they can build knowledge about the vehicle's performance and possible breakdowns. Due to that, they are able to see how their products endure the operation.
With these resources, it is much easier to determine the cause of a particular fault. The biggest challenge? The type of setting and frequency of data collection and integration of results into R&D processes. These issues are yet to be discussed.
2. High-performance processing
Real-time processing and communication are pivotal in unlocking the data potential in the vehicle.
However, it is necessary to define, from the very outset, which specific processing elements are to take place in the vehicle and which in the cloud. Whether the hardware is upgradeable is also an important variable.
3. Interface (HMI) and customer ID
HMI is a bridge between a human and a machine. Any technology, tools, and devices allowing human beings to "communicate" with vehicles – request the operation, change the setting or read for example the current status of the engine.
User experience is the key. Making sure the vehicle operations are as intuitive as possible is the end goal of every interior and UI designer. Adding augmented reality, advanced HUD, gesture operations, or fancy ambient lights makes the driver feel at home, capable of quickly changing the vehicle settings, and always aware of the current situation and hazards.
4. Software platforms
They support various vehicle applications and high-speed data transmission protocols. In the context of monetization, two aspects are of paramount importance: the reliability of the over-the-air software updates and for which of what consumers will be able to pay.
5. Communication
The connection between the vehicle, sensors, internet, and onboard devices is essential. Network gateways include Wi-Fi, Bluetooth, RFID, as well as a high-speed 4G / 5G modem gateway. The latter is the greatest challenge.
The problem that needs to be dealt with is mainly the stability and cost of the aforementioned connection. As the vehicle moves, it can reach locations with low- or even no- mobile internet coverage. This results in interrupted connections, operation retries, or unavailability of services.
6. On-board data storage
It is a local hardware repository for data generated by the vehicle. It must be clear what data is stored on the cloud and who has access to it (e.g. insurers). It is equally important to reassure customers that their information is protected from unauthorized access from outside.
7. Location and navigation technologies
Monetization also depends on location data. The biggest players of software-defined vehicles must decide how to locate a vehicle (GPS) and decide which specific navigation information should be collected and which map's "technical archetype" to adopt.
8. Environmental sensors
It is not only what happens under the vehicle bonnet that matters, but also what influences it. Therefore, environmental factors provide valuable data. They detect parameters related to e.g. road conditions, weather, etc. They also focus on nearby vehicles and people as well as on the cockpit interior: passengers, transported goods, and the driver.
As for the latter, environmental sensors monitor its physiological condition. Based on fingerprint readers, cameras, and microphones, the technology determines, for example, the driver's sobriety or the degree of fatigue. It is also possible to control vital signs such as heart rate and blood pressure.
To what extent is such data monetized? It all depends on how willing the customer is to share bio information about themselves and their passengers.
Categories of data collected in the vehicle
Which elements, systems, and subsystems are responsible for collecting valuable data that can be monetized in the automotive industry? It's time to look at the specific spots in the vehicle that show the greatest potential for data aggregation.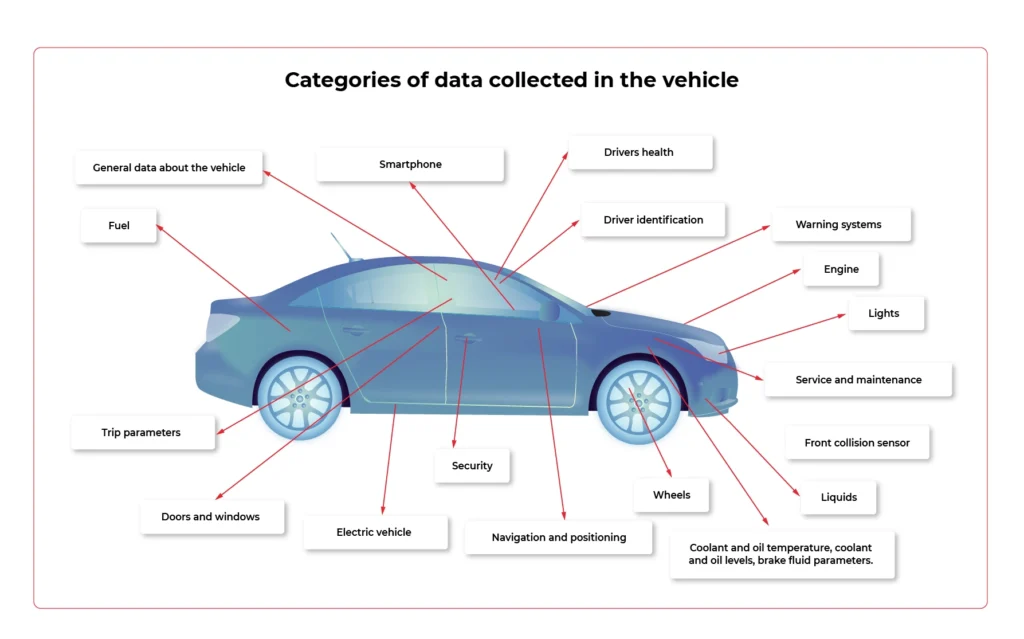 Front collision sensor
Information about the seriousness of the accident / collision and where it occurred.

Doors and windows
The condition of the convertible roof, sunroof, doors, windows, bonnet and boot, spoilers and service lap.

Driver identification
Identifying the person in charge and setting preferential settings for them.

Drivers health
Pulse, data for diabetics, measuring stress levels.

Trip parameters
Parameters such as mileage, acceleration / deceleration, remaining range, ECO or SPORT mode activation time, average distance, driving style rating, average fuel consumption, braking intensity and gear behaviour are taken into account.

Electric vehicle
Battery status and voltage, charging profile and status, power consumption, recovered energy measurement.

Engine
Ignition status, oil and engine temperature data when we are talking about gasoline/ diesel engine.

Fuel
Tank capacity and remaining range.

General data about the vehicle
Information from the display, outside temperature value, VIN number, environment temperature, air conditioning temperature, network connectivity, teleservices availability, vehicle orientation and position.

Lights
The condition of the headlights and indicators.

Liquids
Coolant and oil temperature, coolant and oil levels, brake fluid parameters.

Navigation and positioning
GPS speed, navigation destination, vehicle location (latitude and longitude), time and distance remaining to reach the destination, vehicle alignment, vehicle movement status, most visited places to suggest destinations of travel.

Security
Technical condition of the seat belts and their fastening, information about airbags.

Service and maintenance
Date of the next brake fluid inspection and change, time threshold for the main test and exhaust fumes test, 'check engine' information.

Smartphone
Pairing with smartphones, driver behavioural patterns.

Warning systems
ESP (Electronic Stability Program), ADAS (Advanced Driver Assistance Systems). Data on automatic eCall, battery protection. Messages from sensors (parking, distance, speed).

Wheels
Tire pressure status, brake pads.
Challenges related to technical possibilities
People responsible for the development and implementation of modern solutions face various challenges. How well they handle them determines the success of monetization.
When analyzing individual systems, you need to take into account such aspects as:
the frequency of data collection,
the possibility of updating,
the improvement of sensors that allow collecting personal data
maintaining the stability of connections,
identifying entities that have access to collected data.
Do you also want to develop your skills in the area of ​​software-defined vehicles and take full advantage of the possibilities offered by the combination of traditional vehicle technology with data-based technologies? Benefit from Grape-Up's support and set trends in in-car technologies with us. You can also read more about the challenges of in-car technologies in the first article of this series.

---